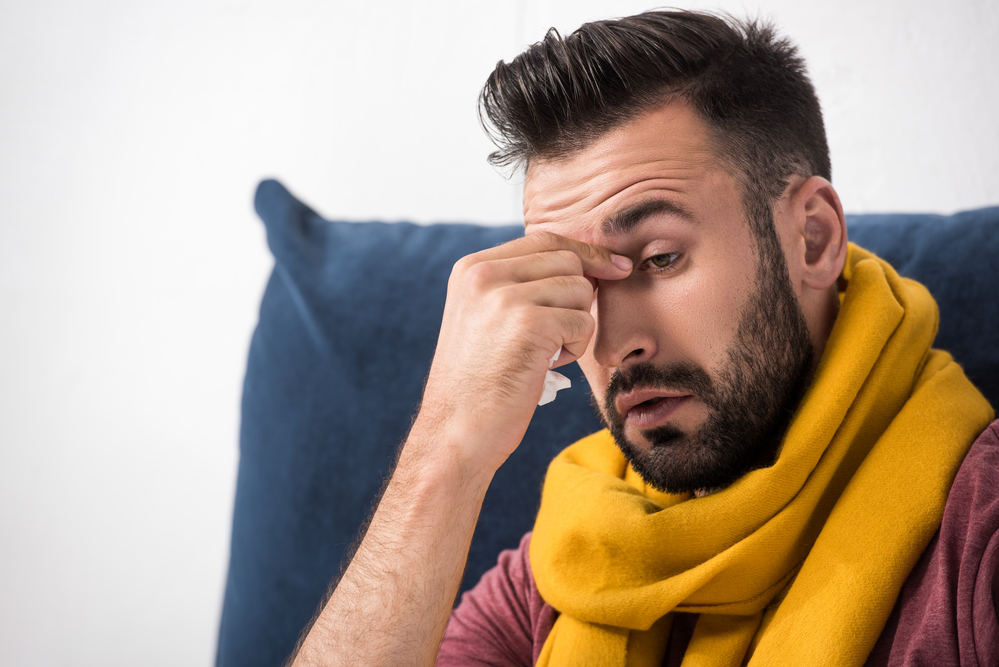 It's easy to know when something is wrong with the body, but what tends to be less obvious is when you should seek care. A sinus infection, for instance, can make for difficult days and long nights – especially when accompanied by a sore throat – but is it cause for concern? Watch your symptoms, and if they worsen over time, you may need to visit American Urgent Care & Walk-In Clinics in Wildwood, FL.
What Is the Connection Between a Sinus Infection and Sore Throat?
It may seem unlikely, but a sinus infection (sinusitis) and sore throat often go hand-in-hand. The former can cause complications with post-nasal drip, or excess mucus, that drains from your nose to the back of your throat. The sheer amount of mucus that drains during this time can lead to throat pain and/or cough.
The trouble is that a sore or scratchy throat can be attributed to a number of different causes. For clarification, sinusitis presents symptoms that are often easy to identify, including nasal pain and inflammation. Other signs linked to sinusitis include: 
Teeth pain
Face tenderness, including near the eyes and ears
Sinus pressure
Fatigue
Post-nasal drip
Congestion
Fever
Headache
Thick yellow or green mucus
Redness or swelling in the face and nasal passages
Itchy ears and throat
Similar to But Different From a Common Cold
It's quite easy to confuse the symptoms of sinusitis with a cold – they are almost mirror images of each other. But sinusitis tends to persist longer than an average cold. In addition, when left untreated, sinusitis can lead to further complications. In extreme cases, patients may lose their sense of smell or even experience reduced vision. It is therefore important to recognize the symptoms of sinusitis and be prepared to seek treatment if they don't soon improve.
Post-Nasal Drip and Throat Discomfort
Knowing how sinuses drain can help understand why post-nasal drip often leads to a sore throat. Your sinuses are air pockets located within the bones of the skull and face. They're designed to drain through the throat and nose. The drainage tends to be so thin and watery that you don't even notice it, especially when in the midst of daily activities.
When Systems Go Awry
But with illness, that drainage system can stop functioning properly. Congestion, for instance, prevents the sinuses from draining through the nose. And the mucus that develops during illness is thicker and heavier than usual. This creates a situation in which higher quantities of thicker mucus must travel down your throat. We call this post-nasal drip, a condition that poses its own set of symptoms, including:
A cough that is frequently worse at night
Nausea caused by excess mucus entering the stomach
Bad breath and/or an unpleasant smell in the nose
Frequent throat clearing, spitting, or swallowing
Sore, itchy throat
As mentioned earlier, a scratchy throat can be the result of many different causes, including mold exposure, tonsilitis, and allergies. The best rule of thumb is this: if you're suffering from the symptoms of sinusitis, your throat discomfort is likely the result of post-nasal drip.
Causes of Sinusitis
Sinusitis is caused by inflammation in which the nasal passages become inflamed due to allergies or an infection. When it's the latter, two different types of infections can be identified: acute and chronic. Acute sinus infections can be the result of another condition or infection, such as the common cold. Chronic infections are more complex and almost always require medical assistance to control them.
The two key culprits behind acute sinusitis are bacterial and viral infections. Although similar, these pathogens require different treatment techniques. That's why it's important to receive an accurate diagnosis. As a side note, sinusitis caused by bacteria is far less common than that caused by a virus.
When to Visit Urgent Care
Most minor cases of sinusitis resolve themselves and do not require medical attention. More severe infections, however, require urgent care. You can tell when you need medical intervention by the length of time you've experienced symptoms. If they've persisted for a week without showing any signs of improvement, you need to come in. The same is true if you have severe difficulty breathing – your sinuses need to be cleared out as soon as possible.
Urgent care is also recommended if your child develops sinusitis and lacks the ability to quickly fight it off. Keep in mind diagnosing the cause of sinus inflammation in children may be difficult. Youngsters can quickly develop allergies not previously detected that lead to inflammation and infection.
 
Attention for Throat Pain
There's no denying the discomfort that comes with a scratchy throat. It's time to visit our office when your pain is accompanied by specific symptoms, including: 
Difficulty turning your head
Swollen glands
A fever over 101 degrees F
Pain that impedes sleeping, talking, or eating
Pus on the tonsils
These symptoms may indicate a strep infection that can be easily detected with a throat swab. If the test comes back positive, our staff will prescribe antibiotics. If you don't have a serious infection, you'll be given relief from your symptoms so you can finally rest and recover.
Common Treatment Options
Antibiotics are among the most
standard treatments
for bacterial sinus infections. These may be prescribed for between three and 28 days, depending on the medication chosen for your particular needs.
Nasal decongestant sprays can also be helpful in clearing congestion. These shrink swollen nasal passages and help move drainage from the sinuses. Antihistamines similarly block inflammation caused by an allergic reaction to keep nasal and sinus passages open and facilitate easy breathing.
Nasal Saline Washes and Topical Nasal Corticosteroids
Additional treatment options include nasal saline washes, which help move thick secretions from the nasal passages, and topical nasal corticosteroid sprays that reverse inflammation and swelling. The latter also effectively shrink and prevent nasal polyps. Corticosteroid sprays do not get absorbed into the bloodstream and can be used for extended periods without the risk of dependency.
Get the Relief You Need
Enduring the symptoms of sinusitis and a scratchy throat can be miserable, but more often than not, the discomfort goes away within a week. If you find your symptoms lasting longer, it's important you visit our office. We can make an accurate diagnosis and prescribe the necessary treatment to get you back on your feet.